Welcome to my John Cusack Web site!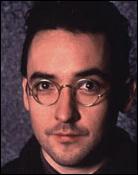 Update! A new script! High Fidelity! Thanks to Phutureclash, Awesome Movie Scripts and Simplyscripts

I'm just starting out, so any suggestions you have would be greatly appreciated! :) :) :) Email me!
So far, I only have links to other John Cusack Fan Sites
John Cusack Vital Stats*
Occupation: Actor, Playwright, Producer, Stage director
Date of Birth: June 28, 1966
Place of Birth: Evanston, Ill., USA
Sign: Sun in Cancer, Moon in Scorpio
Relations: Father: Richard (actor, documentary filmmaker); mother: Nancy (teacher); sisters: Joan (actress), Susan (actress), Ann (singer); brother: Bill (actor)
Education: Piven Theatre Workshop, Evanston
Fan Mail: C/O William Morris Agency
151 El Camino Drive
Beverly Hills, CA 90212
USA
*From Mr. Showbiz Celebrity Profiles
This page was last updated on11/12/01.